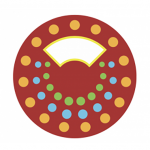 Lacquer red
Laquer ware is sometimes called "Japan" as a traditional Japanese craft. JAGntd uses the vermilion color of this lacquer as the theme color.
Fan-shaped
Dejima was the only window in Japan to trade with foreign countries during the isolation period. JAGntd was born in Nagasaki as a window connecting the NTD community in Japan and the NTD community around the world.
Kawahara Keiga << Nagasaki Dejima no Zu >> Nagasaki University Library Department of Economics
set
Individuals and groups of various sizes, large and small, form the NTD community and are working on their respective activities toward the realization of a world where no one is left behind.