Background of establishment
Neglected Tropical Diseases (NTDs), as defined by the World Health Organization (WHO), are a group of 20 diseases that affect more than one billion people worldwide, especially among the poor population in the tropics and subtropics, and are a source of poverty and health inequalities. In 2012, WHO published "Accelerating work to overcome the global impact of neglected tropical diseases: a roadmap for implementation: NTD Roadmap". The NTD Roadmap sets out a clear path and means to eradicate, suppress or control 17 NTDs by 2020. In response, 13 global pharmaceutical companies, governments, and international health organizations, including the Bill & Melinda Gates Foundation and the World Bank, gathered in London to adopt the London Declaration, a joint statement calling for the eradication, control, or elimination of 10 NTDs by 2020. At the same time, "Uniting to Combat Neglected Tropical Diseases" was established to support partners around the world who are working to realize the NTD Roadmap. Since then, the G7 countries (United States, United Kingdom, France, Germany, and Canada) have established industry-government-academia networks to raise awareness of NTD control in their respective countries and to establish a global cooperative framework for the fight against NTDs.
Japan has a long history of working to combat NTDs. Its experience has been utilized to control NTDs in the world through the Tokyo International Conference on African Development (TICAD), International Science and Technology Cooperation for Global Challenges (SATREPS), and the Global Health Innovative Technology Fund (GHIT Fund). However, the NTD network has not yet been established to enable broad participation of industry, government, academia, and the private sector. In light of this situation, the need for an NTD network in Japan was discussed at a symposium at the joint conference of three global health-related societies (the Japanese Society of Tropical Medicine, the Japanese Society of International Health Care, and the Japanese Society of Travel Medicine) in November 2017, and at an NTD side event at the UHC Forum in December 2017. In the forum, the need for a network of NTDs in Japan was discussed, and much support was obtained for the goal of establishing such a network.
Given this background, the Institute of Tropical Medicine, Nagasaki University is establishing the Japan alliance on Global NTDs (JAGntd) as a mechanism for all individuals, groups and organizations involved in NTDs to collaborate. In addition, the JAGntd Secretariat will play a central role in visualizing Japan's contribution to NTDs, encouraging them to be more effective in their activities, achieving the goals set out in the NTD Roadmap, and realizing the principle of "No one will be left behind".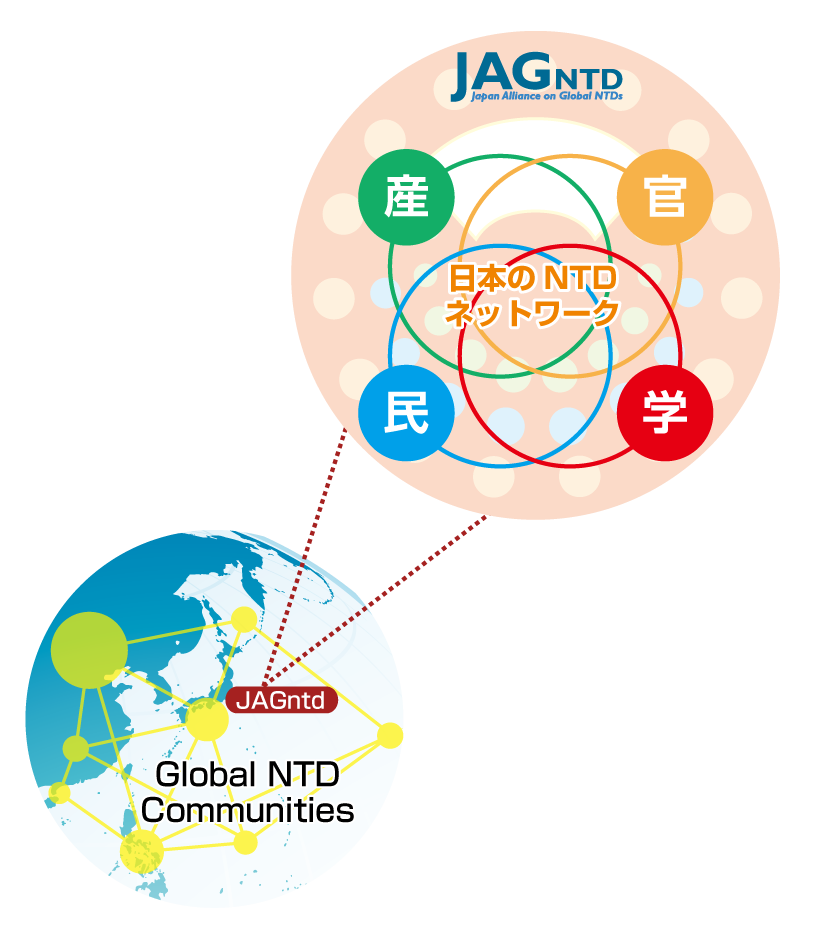 JAGntd is a network that connects organizations, companies, and individuals involved with NTDs in Japan and abroad to promote their participation in Japan's efforts to control Neglected Tropical Diseases (NTDs) and to exchange information with each other. The secretariat is located at the Institute of Tropical Medicine, Nagasaki University.
JAGntd contributes to NTD's global goals set by WHO.
JAGntd promotes the visibility and effectiveness of Japan's contribution to the Global NTD Program.