2022 "World NTD Day" related events have all ended.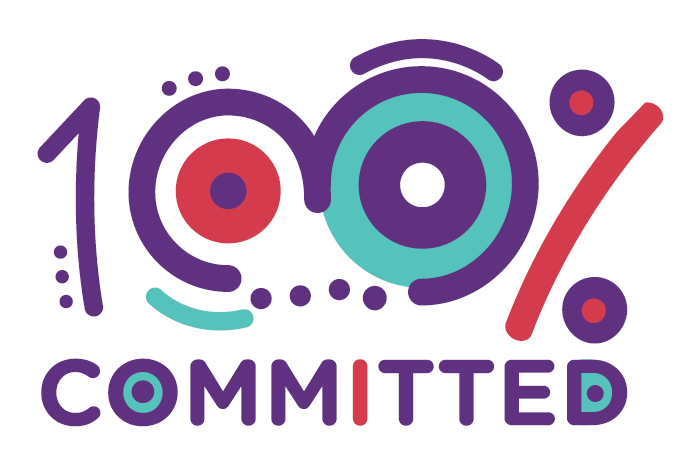 2022年の世界共通ロゴ・スローガン
January 30th is "World NTD Day" approved by the World Health Organization (WHO). Neglected Tropical Diseases (NTDs) are a group of 20 diseases defined by WHO that mainly afflict the poor in developing countries. The suppression of NTDs is also listed in the United Nations Sustainable Development Goals (SDGs), and suppression of NTDs is indispensable for creating a better future for the earth and humankind.
NTDs are named tropical diseases, but some diseases also exist in Japan. Now that interest in infectious diseases is increasing, we hope that Japanese people will feel NTDs as a familiar problem, and that even in the era of Wiz Corona, Japan will gain widespread understanding and support for working on NTD countermeasures at home and abroad. We will carry out an enlightenment campaign with the purpose. This campaign will be part of an international event related to World NTD Day.
More than 300 organizations around the world are partners in World NTD Day. In 2022, "World NTD Day", "100% Committed" will be the international slogan, and light-ups and various educational events will be held in various places. On the same day, the Partnership Declaration (commonly known as the Kigali Declaration) will be announced to secure the commitment to control NTD from the governments, companies and foundations of each country. This is a once-in-a-decade opportunity to express our commitment to NTD internationally.
Co-sponsored by: SDGs Promise Japan (SPJ), Nagasaki University Tropical Medicine Research Institute / Japan Neglected Tropical Medicine Alliance (JAGntd), Japanese Society of Tropical Medicine Student Subcommittee (J-Trops)
Sponsor: Eisai Co., Ltd., Global Health Innovative Technology Foundation (GHIT Fund), Sasakawa Health Foundation
Sponsored by: Ministry of Foreign Affairs, Ministry of Health, Labor and Welfare, Japan International Cooperation Agency, Nonprofit Organization DNDi Japan, Japan Pharmaceutical Manufacturers Association, Uniting to Combat Neglected Tropical Diseases
Cooperation: TOKYO TOWER Co., Ltd., Nagasaki City Hall, Goryokaku Tower Co., Ltd.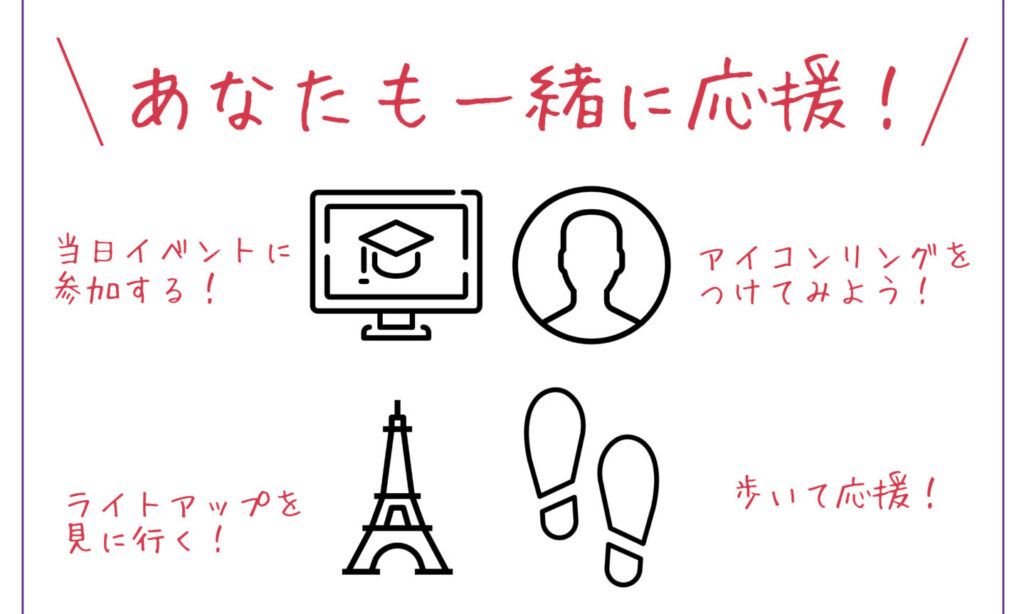 We are preparing various projects. Please join us.
Participate in the event on the day
Let's attach an icon ring to SNS
Go to see the light up
Walking and cheering
Live event on the day
At the online live event on January 30th, we talked about NTDs related to Japan and about the people involved with NTDs in Japan. We hope that you will feel NTDs as a familiar issue and understand the importance of NTD measures in the age of with corona. We also broadcast a special light-up of Tokyo Tower, Nagasaki City, and Goryokaku in Hakodate.
timetable
16: 00-16: 10 Opening
16: 10-17: 10 Part 1: Tropical diseases that are also found in Japan ( see this experience )

What are NTDs?
Japanese NTDs ① Scabies
Japanese NTDs ② Chagas disease
Japanese NTDs ③ Fasciolosis

17: 10-18: 10 Part 2: People involved in NTD measures

Dialogue ① GHIT Fund × Sysmex Corporation
Dialogue ② DNDi Japan × Shionogi Pharmaceutical Co., Ltd.
Dialogue ③ Sasakawa Health Foundation x Janssen Pharma Co., Ltd.
Dialogue ④ JICA x Eisai Co., Ltd.

18: 10-18: 30 Light-up broadcast, closing
SNS icon ring planning
NTDs are literally neglected compared to other infectious diseases.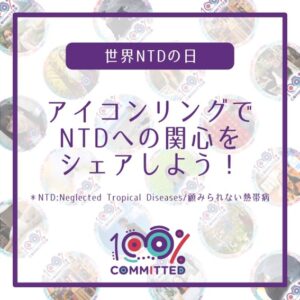 There are various reasons behind this, such as the small number of cases in developed countries, the fact that it is not profitable to develop drugs for developing countries, and the fact that it is difficult to access drugs even if there are therapeutic drugs. There is a problem. However, the biggest problem is the lack of awareness of people about these infections.
This year's World NTD Day has created an icon ring that can be set on the profile of various SNS to make as many people as possible aware of the existence of NTD. If you can sympathize with the spirit of 100% Committed even a little, let's change the icon by the day and let the world know that you "know" NTD!
The icon ring can be downloaded and changed from this special planning page .
light up
On 1/30 (Sun), famous places in Japan were lit up in orange or purple, which is the symbol color of NTDs. It was lit up not only in Japan but all over the world.
| | |
| --- | --- |
| Hakodate | Goryokaku Tower |
| Tokyo | Tokyo Tower |
| Nagasaki | Fukurobashi, Megami Ohashi, Meganebashi |
Walking project "Walk the Talk! NTD 2022"
Partners around the world will begin signing the Kigali Declaration on January 30, 2022, expressing their support for the suppression of NTDs. Join us in this walking event and express your support for governments, businesses and others to sign the Kigali Declaration!
Your health is linked to the health of the world. In this walking event, we will add up the distances you walked during the event and aim for Kigali, the capital of Rwanda. Depart from Hakodate and take a detour to the world famous places that participated in the illumination, and take on a journey of about 55,000 kilometers to Kigali!
Result announcement
By February 28, the total distance was 3,744km (6% of the target). It is a pity that we did not reach our goal far, but we would like to thank all the people who participated. In addition, there were many people who had problems with the automatic step count measurement system, including the link between their smartphones and apps. We apologize for the inconvenience. As a participation prize, we will release a monthly wallpaper showing the lighting up of "World NTD Day". Please download and use it from the link below.
For smartphones (with calendar)
sample
| | | |
| --- | --- | --- |
| For laptops (with calendar) | For laptops (no calendar) | For smartphones |
| | | |