SDGs Promise Japan announces that a special seminar will be held.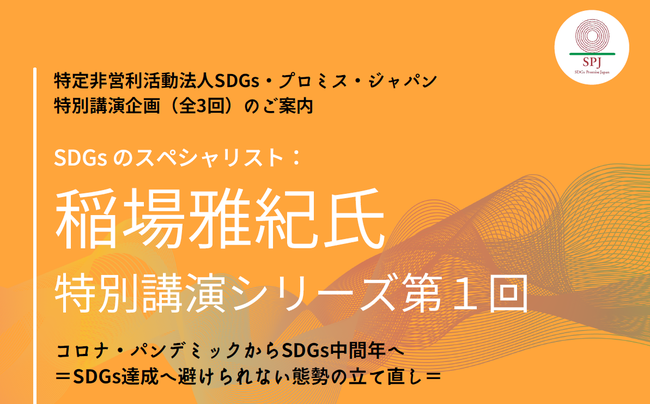 From 15:00 to 17:00 on January 14, 2022 (Friday), we invited SDGs specialist: Masaki Inaba (Director of International Health Division, Japan Council for Africa) as a guest with Corona After Corona. We would like to talk about the challenges and future prospects for achieving the SDGs in the times. It consists of 2 hours including plenty of Q & A time. Don't miss this opportunity!
[Lecture outline]
Date and time: Friday, January 14, 2022 15: 00-17: 00 (Japan time)
Format: Online delivery by Zoom
Registration: Please apply by 18:00 on January 12, 2022 from the link below.
https://forms.gle/dhUUTE6KVoKBKSiE9
Participation fee: Free
[Lecture theme]
From Corona Pandemic to SDGs Middle Year = Rebuilding Inevitable Position to Achieve SDGs =
[Lecture content]
The SDGs (Sustainable Development Goals), which started in 2016, will reach the middle year in 2023. The ambitious goal of a poverty-free and sustainable society by 2030 has been forced by Corona to make a major setback, and the crisis of "global limits" such as climate change and biodiversity loss has not been awaited. .. On the other hand, the "crisis related to geopolitical transformation" of world rebalancing due to the rise of huge emerging nations, and the "crisis related to science and technology innovation" that drastically changes society, economy and culture as a whole due to the rapid introduction of new science and technology. Together, the risks the world faces are much greater than they were when the SDGs began. 2023 is the year in which Japan will chair the G7, and there will be a UN UHC High-Level Meeting. What do we need to prepare for the SDGs mid-year?
[Lecturer: Biography of Mr. Masaki Inaba]
Born in 1969. Since the 1990s, after working on Japan's poverty and labor issues, LGBT human rights and HIV / AIDS, he has been engaged in international health policy proposals at the NPO Africa Japan Council since 2002. Taking the opportunity of the G8 Toyako Summit in 2008, he will be responsible for coordinating the advocacy of Japanese civil society regarding the G7 / G20 and the UN SDGs review process. Since 2012, he has been involved in the SDGs formulation process as a civil society, and in 2016, participated in the establishment of the SDGs Civil Society Network and served as managing director. Since the same year, he has been a member of the government's "SDGs Promotion Roundtable". Since 2021, he has been involved in the formulation of a new global health strategy as a member of the government's "Task Force for Global Health Strategy Experts". Co-authored with Iwanami Shinsho "SDGs: Compass in the Age of Crisis" (co-authored with Hiroshi Minami, the representative of the Japanese government in charge of public relations and diplomacy).