This is an announcement of the SPJ online seminar.
---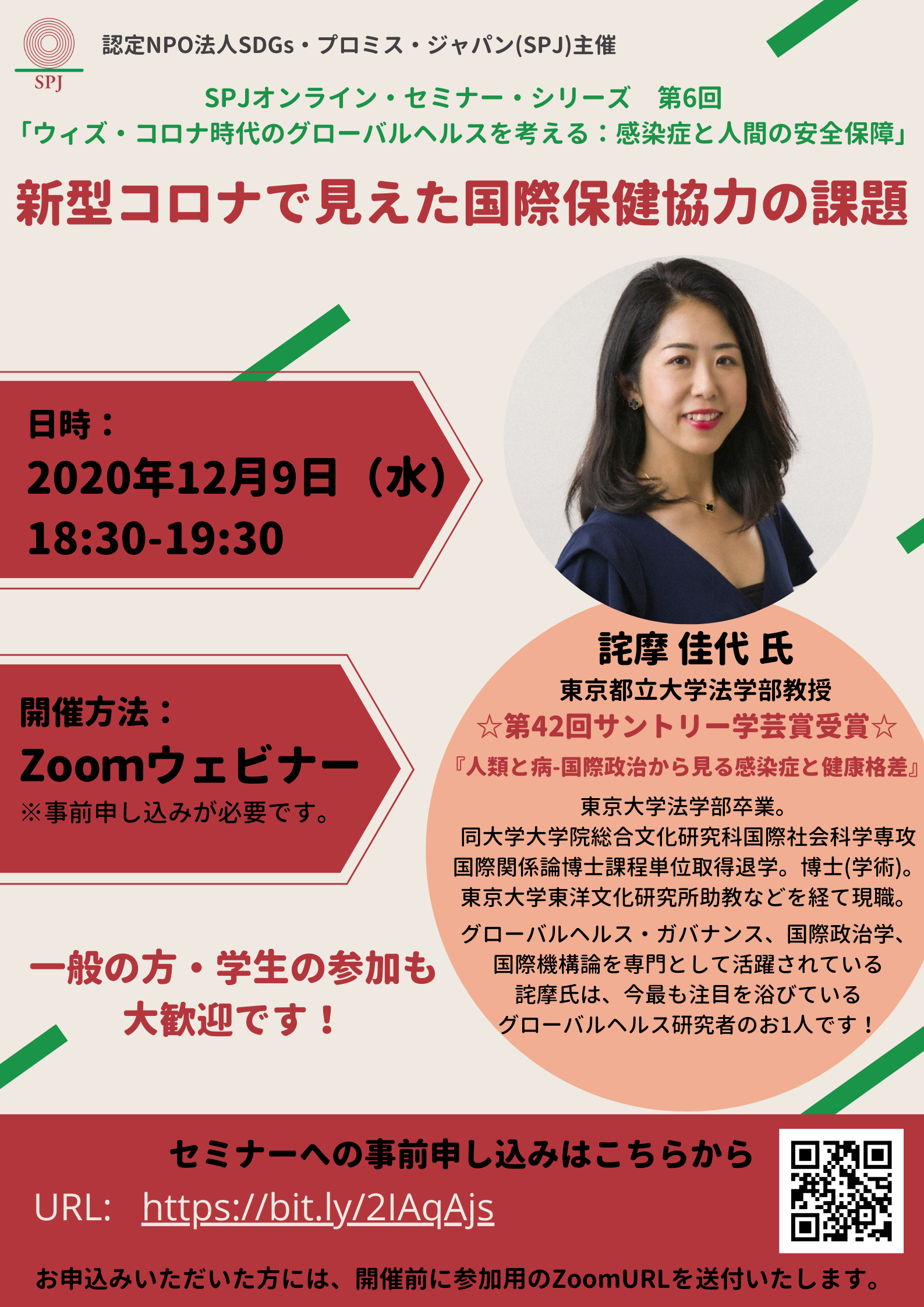 ---
At SPJ, the online seminar series "Thinking about Global Health in the With Corona Era:
"Infectious Diseases and Human Security" is being held (past seminar YouTube is open to the public).
The sixth installment of the next series will be entitled "Issues of International Health Cooperation Seen in the New Corona".
We welcome Professor Kayo Takuma, a professor at Tokyo Metropolitan University, as a lecturer.
Dr. Takuma wrote in his book "Humanity and Diseases: Infectious Diseases and Health Disparities from the Viewpoint of International Politics" (Chuko Shinsho).
Received the "42nd Suntory Prize for Social Sciences" (Political and Economic Division) (announced on November 16th)!
Professor Takuma, who specializes in global health governance, international politics, and international organization theory, is one of the hottest researchers in this field.
This is a valuable opportunity to ask questions directly. Please join us.
Schedule: Wednesday, December 9, 2020 18: 30-19: 30 (60 minutes)
Theme: Issues of international health cooperation seen in the new Corona Lecturer: Kayo Takuma (Professor, Faculty of Law, Tokyo Metropolitan University)
Target: Working people, university students, people involved in global health and international cooperation, etc. Holding method: Zoom Video Webinar
▼ Please apply in advance from this link.
https://us02web.zoom.us/webinar/register/WN_1l3u1HIsTjWN0MjUqUyC7A
* We will send a Zoom URL for participation to those who apply.
[Past seminars 1st to 4th YouTube open]
▼ Click here to subscribe to the SPJ official YouTube channel
https://www.youtube.com/channel/UCsSlgpB_XUrW7CLKkhF0P9Q